Dusty Slay joins me on the podcast today to discuss all things comedy. Dusty was born and raised in Alabama. He moved to Charleston, SC and got started at first by performing Improv comedy. He tried a little stand-up comedy. His first set was great. But then the following shows were not that good and he took a four year break before trying again. Lucky for us, the second time around stuck and he has been onstage since 2008. So, ten years into comedy is where we pick up today.
DUSTY SLAY SHOW NOTES:
Specifically, Dusty Slay and I talk about:
Growing up (and writing about) living in a trailer park
Learning to write about real life
How real life comedy is easier to remember
Performing sober since 29 years old
Moving to Nashville to be more geographically centered
Landing in a new town with an hour of solid material
Moving up into headlining at comedy clubs
Resetting the stage when following high energy
Experimenting with crowd work
Adjusting delivery for different types of audience
Slowing down enough to allow the audience to react
Accepting comics who are different than you
What led up to Dusty's Jimmy Kimmel appearance
The role comedy festivals played in the appearance
The value of keeping a five minute set handy
Developing a YouTube channel
and much, much more!
DUSTY SLAY ONLINE:
Dusty Slay on Jimmy Kimmel: https://youtu.be/o5j4Y5pcbr0
Dusty Slay web site: http://dustyslay.com
Dusty Slay Youtube channel: https://www.youtube.com/watch?v=qlqb-g3sQjQ
DUSTY SLAY BIO
Slay has appeared on several network shows including ABC's Jimmy Kimmel Live! NBC's "Last Comic Standing", the popular program "Laughs on FOX" and he was a featured comedian on "TMZ".  Dusty's comedy is regularly showcased on many nationally syndicated radio programs including Sirius XM, Pandora Radio and "The Bob and Tom Radio Show". He's also been invited to numerous comedy festivals across America including: The Bridgetown Comedy Festival 2017, The Laughing Skull Festival 2015-16, The Charleston Comedy Festival and The Cape Fear Comedy Festival. Dusty won both the "Fight Night Competition" and the "Almost Famous Competition" at the Charlotte Comedy Zone in 2014.  During his years in Charleston, SC Slay won The Charleston Comedy Festival Stand Up Competition two years in a row and was voted "Best Local Comic" by the readers of the Charleston City Paper in 2013 and 2014.
Episode Sponsors …
We are sponsored today by the Clean Comedy Challenge (www.CleanComedyChallenge.com) and Patreon supporter Brad Ber. Visit PATREON to learn how you can support the podcast through a small, recurring monthly donation.
April 8, 2018 6:00 PM
Laugh All Night @ Bright Christian Church
24457 State Line Rd, Lawrenceburg, IN 47025
Tickets: FREE or at the door

April 27, 2018 7:00 PM
Laugh All Night @ Central Church
2005 East Winchester Rd. Collierville, TN 38017
Tickets: FREE or at the door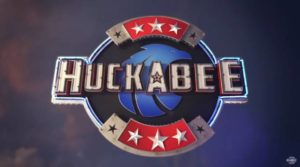 April 10, 20 May 4, 18, 24 2018
6:ooPM
TBN Studios Hendersonville, TN (Just North of Nashville)
Tickets are FREE but must be reserved.
Tickets for HUCKABEE in Hendersonville from ShowClix
https://www.showclix.com/event/huckabee
REQUESTING TICKETS. All available live taping dates for the HUCKABEE show are listed on the calendar as they are confirmed one month out. Please choose the taping date you are interested in and follow the prompts. If the date you choose is already at capacity, feel free to enter as standby or choose a future date.